Chemical-Based Sunscreens: Trade, Don't Trash!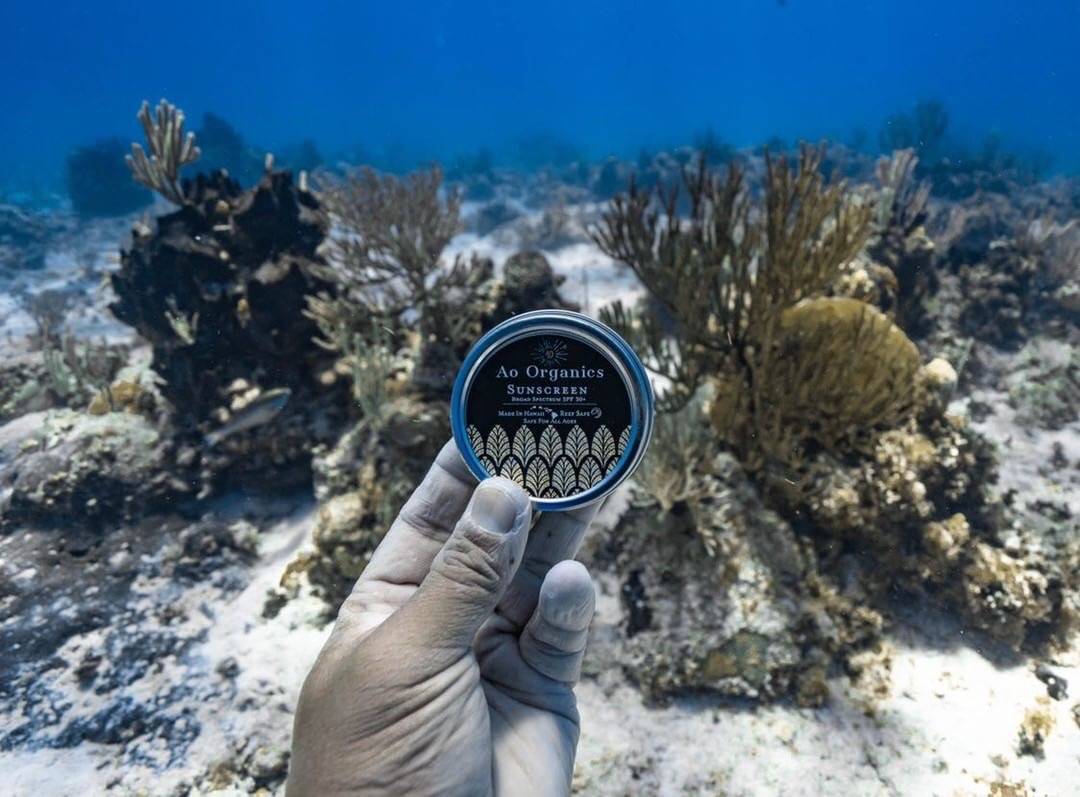 In less than a year, Hawai'i will be the first state in the country to ban the sale of sunscreens formulated with oxybenzone and octinoxate–two of the most detrimental chemicals that harm our reefs (and even our bodies!).
What is Oxybenzone?
Oxybenzone, in particular, is one of the most common ingredients and can be found in over 3,500 commercial brands of sunscreen. This chemical badly alters coral DNA, making the coral more susceptible to fatal bleaching. It also acts as an endocrine disruptor, causing baby coral to encase itself in its own skeleton and ultimately die.
---
Although the law doesn't go into effect until January 1, 2021, we want to help you make your transition from chemical sunscreens to reef-safe sunscreens NOW with our new Trade, Don't Trash program! If the sunscreen is mineral-based, containing zinc oxide and/or titanium dioxide as active ingredients, you're safe.
However, if your sunscreen lists oxybenzone, avobenzone, homosalate, octinoxate, octisalate, octocrylene, and/or nanoparticles as active ingredients, you should avoid them. Even if you don't go into the ocean, these ingredients may wash off in the shower or pass through the sewage systems (via our urine), and could eventually end up in the sea!
Disclaimer: Many commercial sunscreens claim to be "reef-friendly" or "reef-safe" but are NOT! Be sure to always review the active ingredients to be sure!
---
Here's how our program works:
1. Mail us your used or unused chemical sunscreens to the address below.

(Please include your email or email us when you send the package)
Ao Organics Hawaii
PO Box 954
Honokaa HI 96727
2. We will give you 50% off of our Ao Organics Hawaii reef-safe sunscreen (we'll send you a code via email!)

 

3. We will send your chemical sunscreens to the Kohala Center where they will safely dispose of the sunscreens so they won't harm our oceans.
Why Ao Organics Sunscreen?
- It's organic, reef-safe and eco-friendly all while protecting

your skin from harsh UVA & UVB rays

.

- G

oes on silky smooth, is safe for the most sensitive skin, plus it's great for our youngest family members too.

- Features Hawaiian Beeswax, which gives your skin water-resistant protection–perfect for all adventures under the sun!

- Most importantly, our sunscreen is chemical-free and has no hormone disruptors, so you can feel good about using it on yourself and your little ones.
More about the Kohala Center:
The Kohala Center is working in partnership with the County of Hawai'i to dispose of chemical-based sunscreens in an environmentally friendly manner, keeping them out of landfills and from potentially entering waterways. You can also simply drop off your chemical-based sunscreens at one of their Hawai'i Island locations. See their website for more information.
Combatting Maskne (Mask-Acne)
Wear a mask! This you already know–but do you know how often you should be washing your mask or even how to safely wash it to prevent getting "maskne" or mask-acne? Sometimes tossing your used masks in the washer may be counterproductive for your skin as certain detergents may irritate it. However, we have the perfect solution to address this new skin issue some of us may be "face"-ing!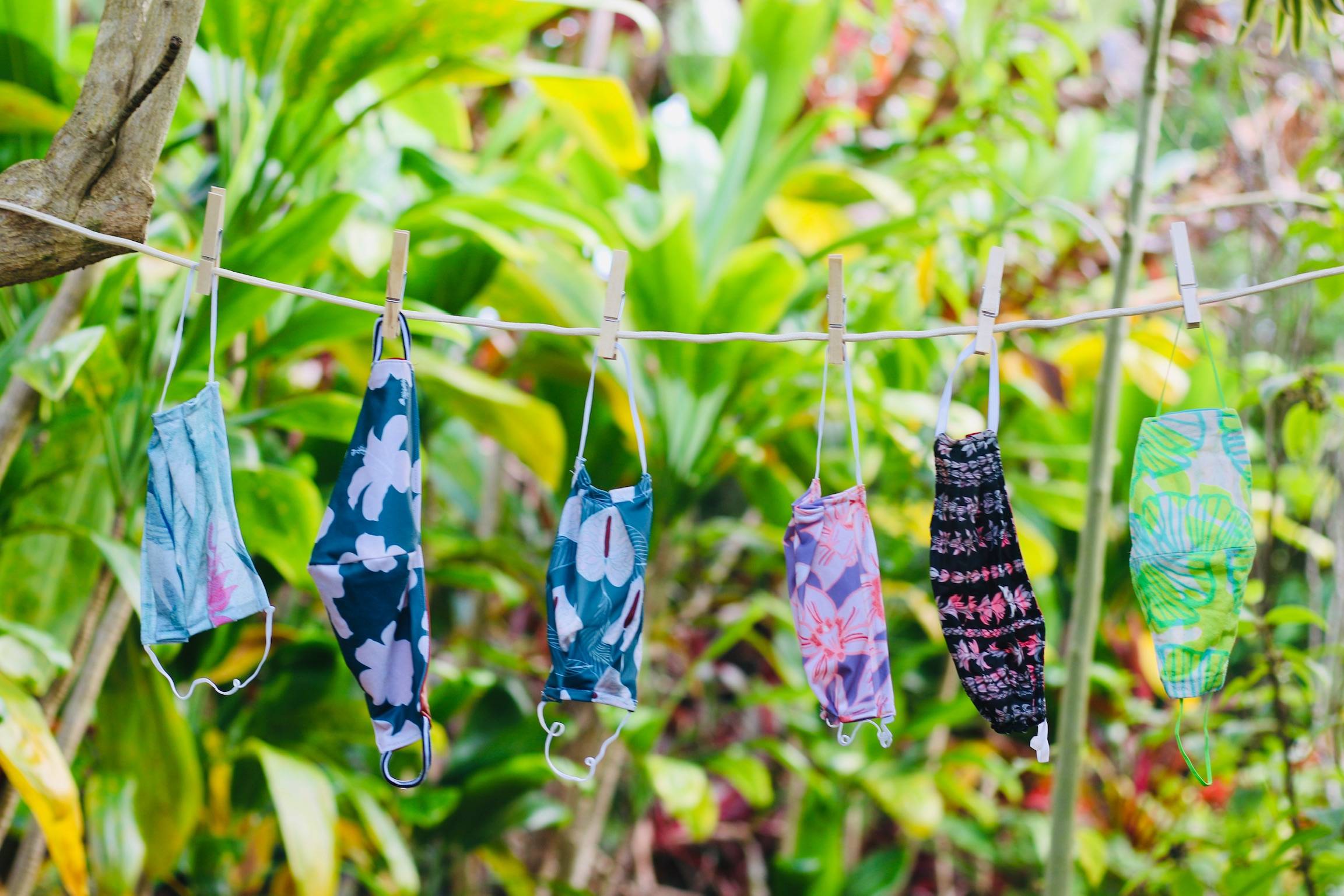 Here's What You Need:
1 medium-sized bowl
1 ½ c water
5 to 10 drops melaleuca oil
5 to 10 drops lemon essential oil
1 tbsp liquid castile soap (our favorite is Dr. Bronner's Pure-Castile Liquid Soap)
Instructions:
1. Place all contents in the bowl and mix.

 

2. Soak your mask in the liquid mixture for 10 to 20 minutes.

 

3. Remove the mask from the liquid mixture and lightly scrub it, then hang to dry.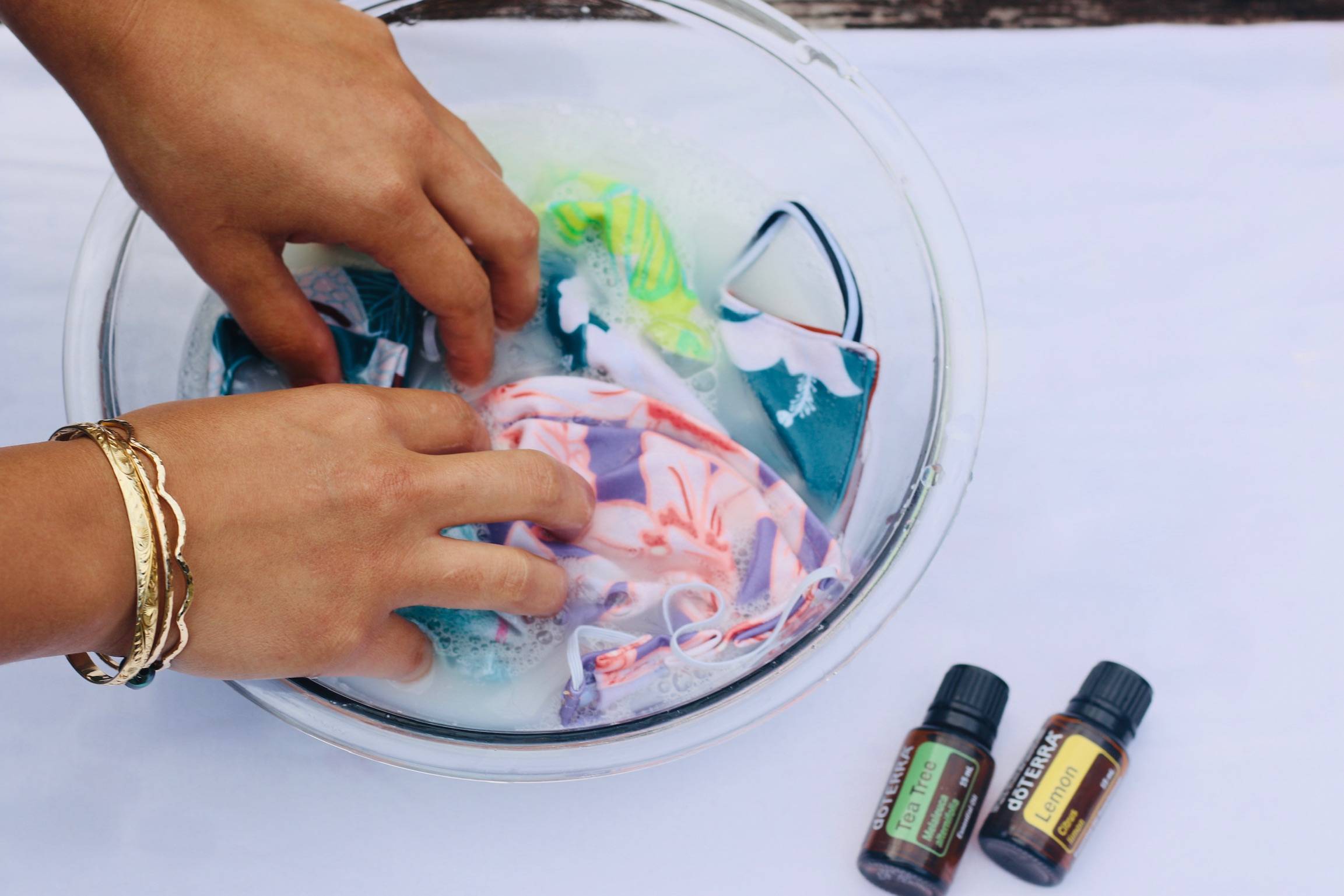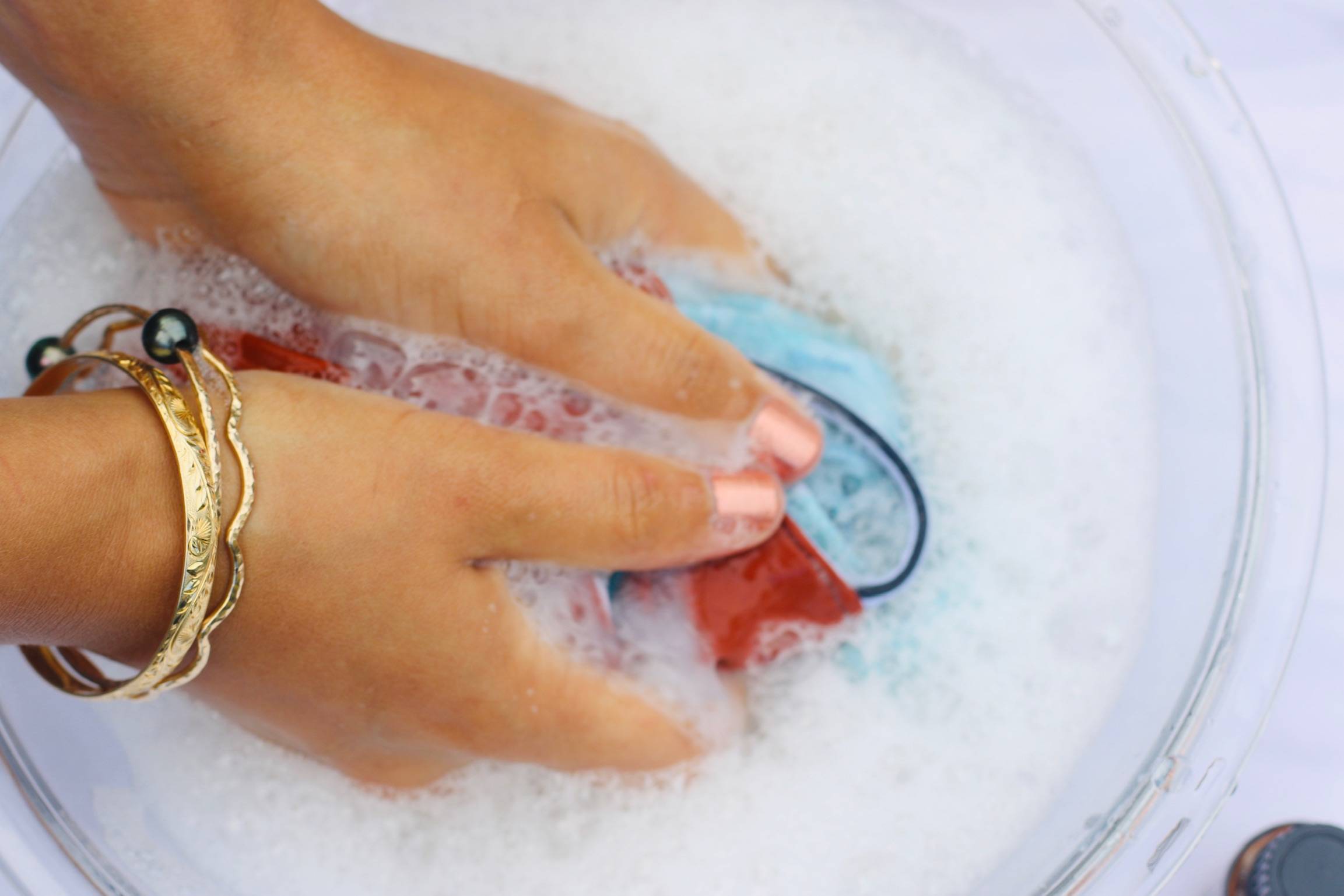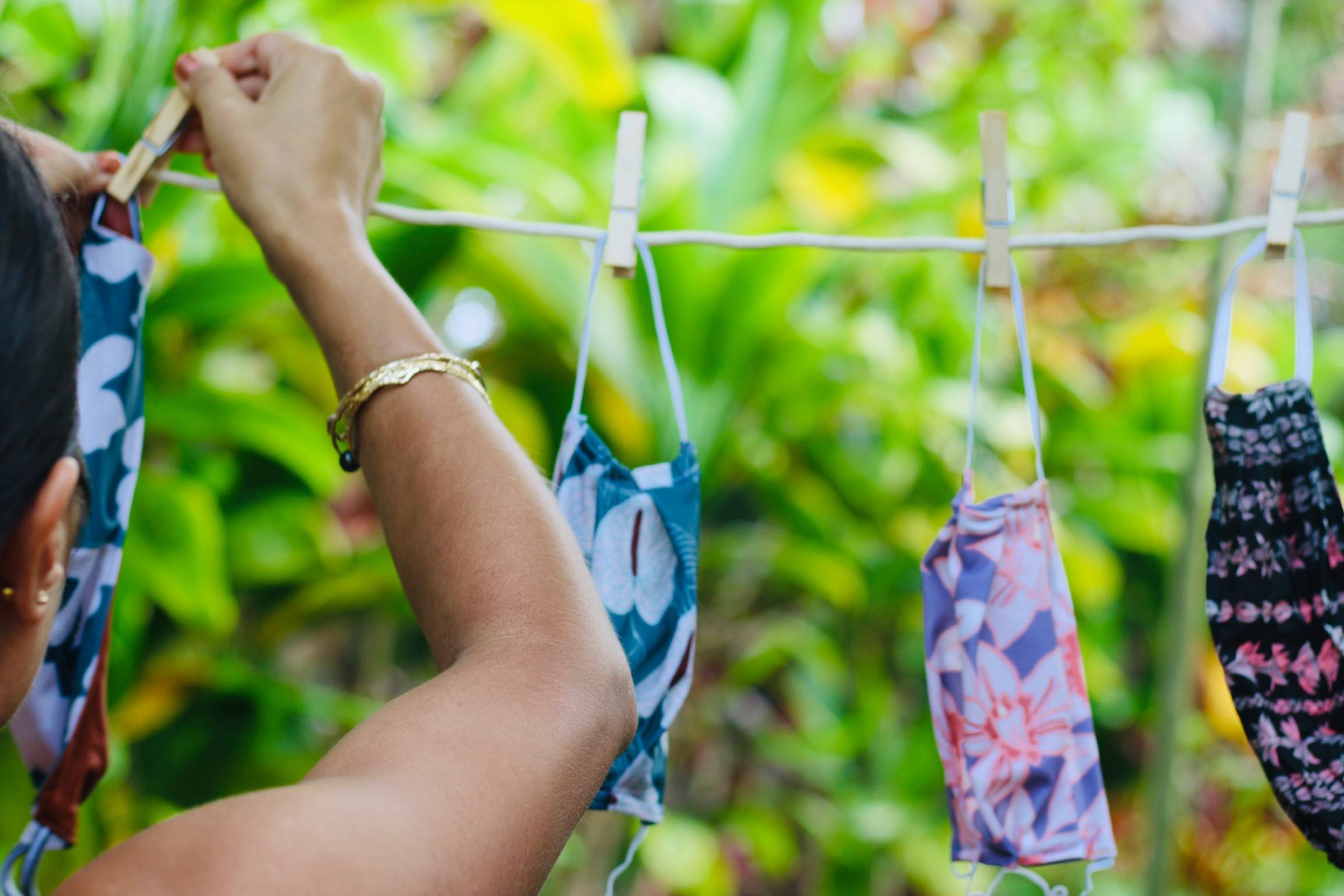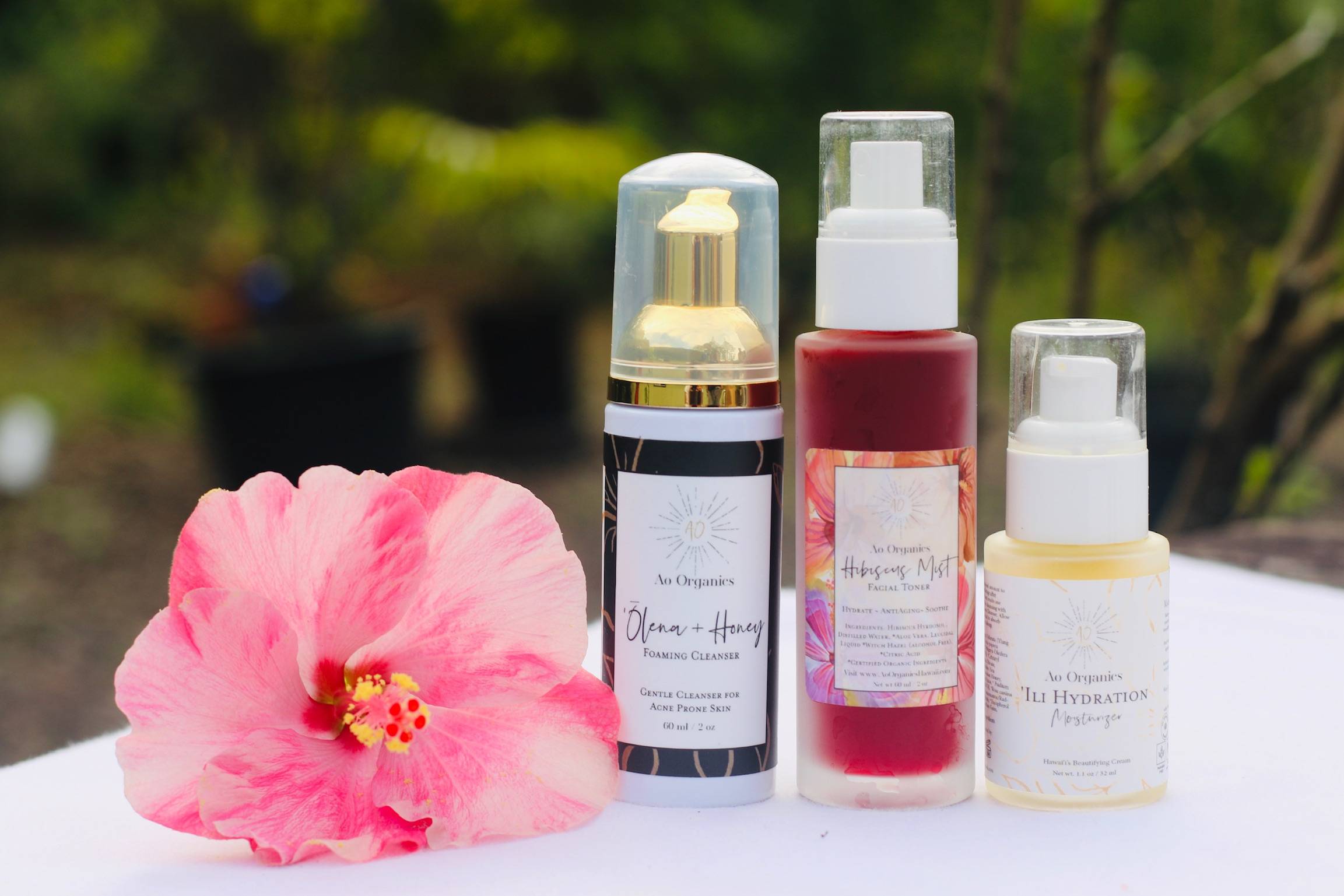 "Maskne" prevention tips:
Have at least three to four masks on hand that you can use and rotate through.

 

Save your cotton masks for longer wear periods like an eight-hour work shift.

 

Use masks with thinner material (i.e. Lycra) for shorter wear periods like a quick trip to the grocery store.

 

Skip the makeup from the nose down–just apply eyeliner, eyebrow pencil, mascara, etc., and of course, don't forget your Ao Organics sunscreen!

 
Be sure to wash your mask every three to four days (of course, the more often you wash it, the cleaner it will be!). For more information, click here for a clip from KHON2 featuring our friends at Revival Beauty Bar!
Combatting "maskne":
If you are already suffering from acne, try some of our products that will treat it!
Meet Chelsa Davis, Founder + Formulator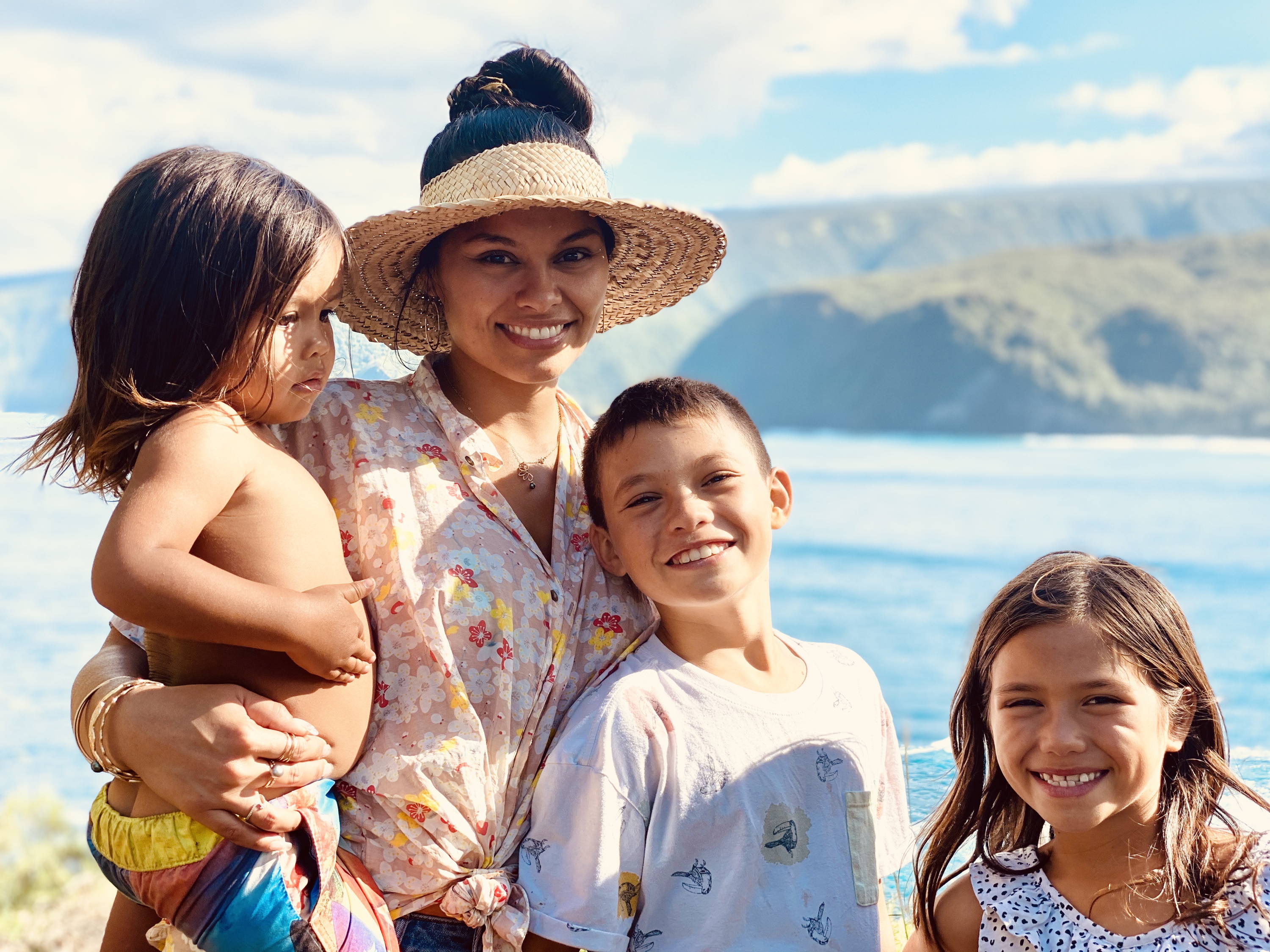 Aloha everyone, welcome to Ao Organics Hawaii's new website–we're so excited to have recently launched our refreshed site, including the addition of our blog, #AOGlow Beauty Bulletin. In our first post, we are highlighting our founder and formulator Chelsa Davis with a fun Q&A. Take a moment to learn about the #AOGlow face behind our natural skincare brand!
Q: Tell us a little about yourself and your background! (where you're from, family etc.?)
A: I was born in Kailua, Oahu, but grew up on Maui and the Big Island. I had my oldest son at the age of 19–becoming a young mother was one of my greatest and most rewarding experiences. I was eager to educate myself and become someone he could look up to.
Q: How did you start Ao Organics Hawaii?
A: Ao Organics started when I was pregnant with my third keiki. I have always been conscious about the ingredients in our food, but then began looking deeper into the household products we were using and the ingredients in them. One of the main products we were always using was sunscreen, but I couldn't believe all the toxic ingredients that were in them. That's when I started my research to find out what ingredients were safe while protecting our skin, and understand the toxic effects that these chemicals had on our bodies, plus our environment. I tried to search for locally sourced, trusted and organic sunscreens that would be safe for my family...there were none. That's when I decided to make it myself, and after a lot more research (trial and error of figuring out how to make it!) I finally found the consistency I loved. I shared the sunscreen with family and friends, who after using it shared how much they loved it. So many people told me they had no idea about the damage it was doing not just to our bodies, but to our coral reefs. That was when Ao Organics Hawaii was born! I wanted to 1) create products that were safe for our families and 2) educate people on the (toxic) ingredients that are in our everyday products and lives.
Q: How do you pronounce the name of your brand and what is the story behind it?
A: The correct pronunciation for ao is "ah-oh," and in 'ōlelo Hawai'i, it translates to world, earth or realm. When I decided to start my business and create these natural products, everything I created was to be just that–from ao, from our earth. I wanted products safe for your skin, keiki, ohana, and of course, our ao.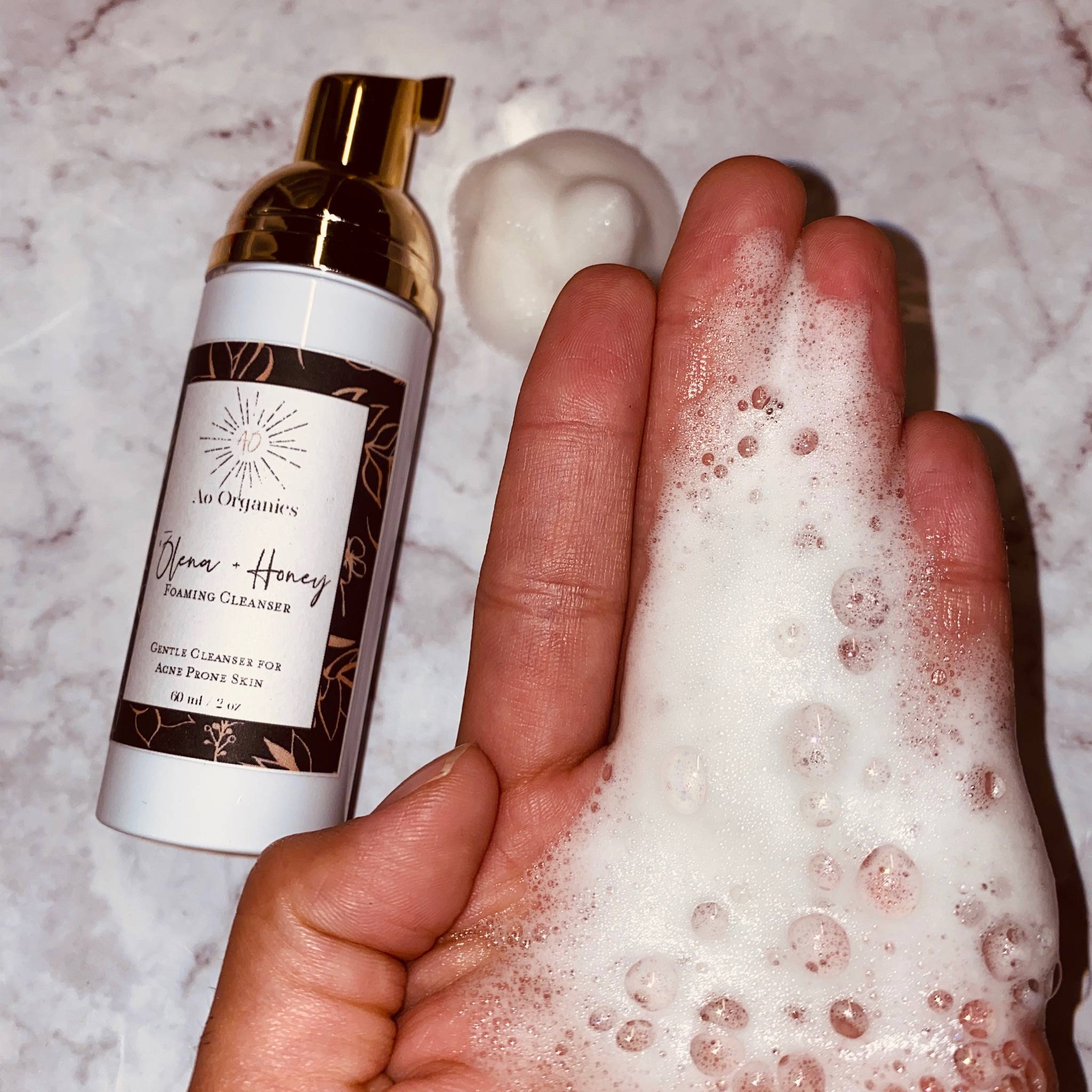 We formulate high-quality skincare products with ethically sourced ingredients that will treat women's skin issues and won't break the bank, all while achieving healthy, glowing skin.
— Chelsa Davis
Q: What are your top five favorite products?
A: Such a hard question, haha! I literally love and use every single product almost daily.
Get Naked Makeup Remover; I will never remove my makeup with coconut oil again (haha)

'Ōlena + Honey Foaming Cleanser; my skin has never been clearer since using this cleanser

Ili Hydration Moisturizer; I have oily skin and never thought I needed a moisturizer, until I realized what my skin was missing! It was this moisturizer.

Ili Alohi Serum because when hormonal acne shows up, this serum magically erases any scars or damage that was done.

AO Tanning Oil for my golden glow!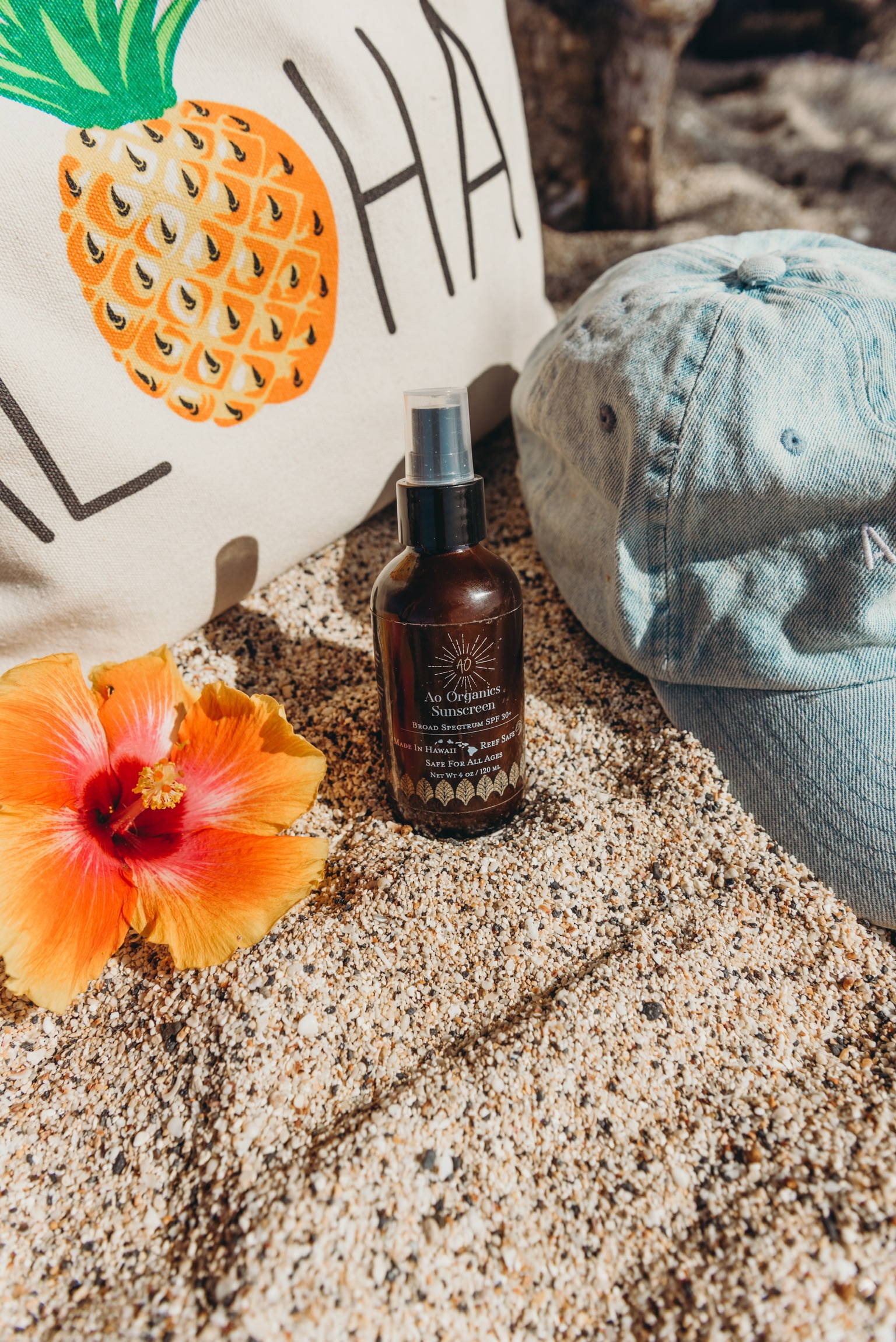 Q: What is the mission of your brand?
A: My mission has always been to educate and empower others to know what kind of products they are using on their skin–not just the health impacts, but also the environmental impacts they may have on our ocean and land. We formulate high-quality skincare products with ethically sourced ingredients that will treat women's skin issues and won't break the bank while achieving healthy glowing skin.
Q: What is your favorite beach and what can we find in your beach bag? (provide photo)
A: My favorite beach is right next to my hometown, Waipio Valley. My must-haves in my beach bag are: Liquid Sunscreen, Golden Hour Tanning Oil, & a bottle of some After Sun Spray (perfect refresher when it starts to get really hot)
Q: Morning skincare routine?
A: My morning routine is simple and quick because my mornings are always busy with getting my kids ready for the day.
I simply cleanse with 'Olena + Honey Foaming Cleanser

Tone my skin with the Hibiscus Facial Toner and apply Ili Hydration Moisturizer

I can't start my day without applying Awakening Eye Espresso Serum under my eyes to depuff and help lighten any dark circles.
Q: Nighttime skincare routine?
A: My evening routine is a little longer, but Ilove to think of it as my self care ritual where i get to unwind from the day and have some time for myself.
I always start by removing any makeup (which is usually only mascara)–the Get Naked Makeup remover melts it away like a boss.

Cleanse with 'Olena + Honey Foaming Cleanser

Tone with Hibiscus Facial Toner (preps skin for serums and moisturizer)

Spot treat any scars with Ili Alohi Serum (allow it to soak in)

Apply moisturizer, the Ili Hydration Moisturizer.

Then time for my Lash Queen serum for my lashes and brows.

Q: More than ever, self care is so important. What are small ways that we can indulge in moments of self care?
A: It really is so, so important to find time for ourselves, to give a little more time and love that we so freely give to others. A small way I like to indulge in self care is to simply apply a face mask while getting ready to shower or even take a hot bubble bath with my Green Goddess Mask on!