In less than a year, Hawai'i will be the first state in the country to ban the sale of sunscreens formulated with oxybenzone and octinoxate–two of the most detrimental chemicals that harm our reefs (and even our bodies!).
What is Oxybenzone?
Oxybenzone, in particular, is one of the most common ingredients and can be found in over 3,500 commercial brands of sunscreen. This chemical badly alters coral DNA, making the coral more susceptible to fatal bleaching. It also acts as an endocrine disruptor, causing baby coral to encase itself in its own skeleton and ultimately die.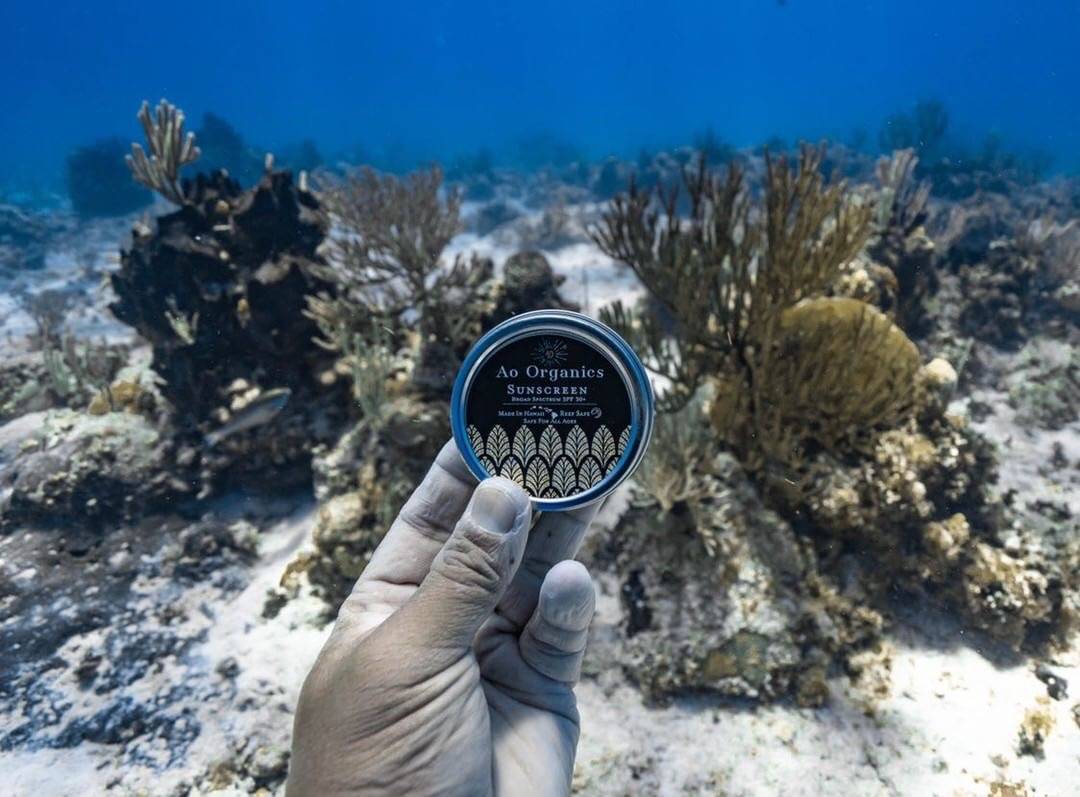 Although the law doesn't go into effect until January 1, 2021, we want to help you make your transition from chemical sunscreens to reef-safe sunscreens NOW with our new Trade, Don't Trash program! If the sunscreen is mineral-based, containing zinc oxide and/or titanium dioxide as active ingredients, you're safe. However, if your sunscreen lists oxybenzone, avobenzone, homosalate, octinoxate, octisalate, octocrylene, and/or nanoparticles as active ingredients, you should avoid them. Even if you don't go into the ocean, these ingredients may wash off in the shower or pass through the sewage systems (via our urine), and could eventually end up in the sea!
Disclaimer: Many commercial sunscreens claim to be "reef-friendly" or "reef-safe" but are NOT! Be sure to always review the active ingredients to be sure!
Here's how our program works:
Mail us your used or unused chemical sunscreens to
Ao Organics Hawaii
PO Box 954
Honoka'a, HI 96727
We will give you 50% off our Ao Organics Hawaii reef-safe sunscreen (we'll send you a code via email!)

We will send your chemical sunscreens to the Kohala Center where they will safely dispose of the sunscreens so they won't harm our oceans.
Why Ao Organics Sunscreen?
It's organic, reef-safe and eco-friendly all while protecting

your skin from harsh UVA & UVB rays

.

G

oes on silky smooth, is safe for the most sensitive skin, plus it's great for our youngest family members too.

Features Hawaiian Beeswax, which gives your skin water-resistant protection–perfect for all adventures under the sun!

Most importantly, our sunscreen is chemical-free and has no hormone disruptors, so you can feel good about using it on yourself and your little ones.
More about the Kohala Center:
The Kohala Center is working in partnership with the County of Hawai'i to dispose of chemical-based sunscreens in an environmentally friendly manner, keeping them out of landfills and from potentially entering waterways. You can also simply drop off your chemical-based sunscreens at one of their Hawai'i Island locations. See their website for more information.